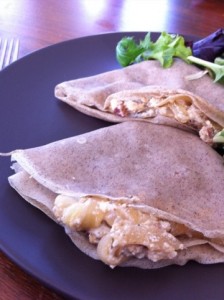 Due to March's decision to take that whole "in like a lion" thing a little too literally, I found myself unexpectedly home today – a Saturday – having not driven to Chattanooga last night. Keifel's work schedule and my sleepiness precluded a fancy pants breakfast so I decided a fancy pants lunch was in order. Have I mentioned that I consider crêpes a food group?
I spent part of the morning planning two upcoming cooking events (not catering = not getting paid) and came across this recipe in my perusing. I had almost everything on hand.
Buckwheat Galettes with Gruyère Cheddar, Onion and Bacon Filling
Makes 12 – requires some type of pan suitable for making crêpes (and requires scales – sorry)
75g buckwheat flour
75g all-purpose (or plain) flour
2 medium, local eggs, lightly beaten
250ml whole 2%, non-homogenized milk
1 Tbsp veg oil (safflower is my go to)
Filling:
2 large onions, sliced
200g American-style smoked bacon, local, cut into thin strips (crosswise)
few thyme sprigs or teaspoon dried
2 garlic gloves, minced
100g black wax, extra sharp Cheddar, grated
100ml crème fraîche ricotta cheese
Mix the flours together, sprinkle in a little salt, mix 100ml water with the beaten egg and whisk mixture into the flour, add milk slowly until batter is smooth. Cover and chill 2 hours to let the flours hydrate. Not doing this will make you curse the pan, me, whoever first thought buckwheat was edible and probably your mother for you having been born. Recipe doesn't call for it, but I think they would brown better with a teaspoon or two of sugar; mine were a little on the not-browned side.
An hour and a half later or so, make the filling, sauté the bacon until crispy. Remove the bacon from the pan and drain on paper towel. Remove all but a tablespoon or two of bacon fat from the pan and add the onions. Sauté until lightly golden brown, add the garlic and thyme and sauté a few more minutes. Add back the bacon and set on the back burner, on low, until you're done making the galette part of the recipe.
When your batter has hydrated for two hours, heat a crêpe or similar pan on medium heat. Dip a paper towel into the veg oil from the crêpe part of the equation and rub the inside of the pan with a very thin even layer or oil. Place 1/4 cup of batter and twirl around the pan until evenly distributed, it's fine if some goes up the sides a little, in fact it's good and will help you tell when your super skinny pancake is done. When the lacy bit at the edge pulls away from the side of the pan flip your crêpe over with a large palette knife, wooden crêpe spatula or whatever is handy (I use my fingers a lot for this) and let it cook on the other side for about a minute. Place on plate in very low oven to keep warm until you've finished the others. Do not be discouraged if the first one is a disaster. It is traditionally referred to as the dog's pancake and is not a moral failing on your part. Finish your crêpes, oiling the pan as needed. You'll get between 12 and 10 depending on the severity of the dog pancake. Stir the grated Cheddar and ricotta into the onion mixture on the back burner and heat through. Fill crêpes by putting a large tablespoon of filling on one quadrant and folding over the crêpe in quarters. Two per person is pretty filling especially with a little astringently dressed spring mix on the side for the green stuff. Recipe in the mag recommends serving with hard cider as this is practically the national dish of Brittany. Drink it if you got it.