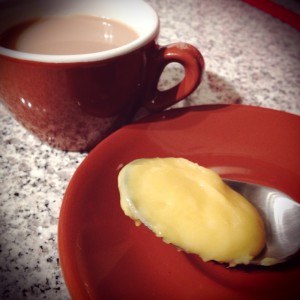 After making crazy big meringues last weekend I found myself with an unsightly number of egg yolks to use up. I hate to throw food away and would usually make some kind of eggy bread with the glut. But… we already had bread, bagels and a pan of cornbread. What's a woman to do?
Trawl the internet for "recipes with ten egg yolks" and light upon lemon curd with exactly that many yolks and the need for the zest of three lemons and a cup of fresh lemon juice. I also had a bag of lemons that were going to shrivel on the counter.
Lemon curd duly made. A scone would be a beautiful conveyance for said curd, but that takes us back to the "we have all this bread" issue.
Lemon curd is very good on warm toast.