I've become a little obsessed with the idea of making lots of things from scratch one would normally buy at the store. I mean why not make something with a handful of pronounceable ingredients rather than buy something with twenty scary things you can't pronounce and would need a child lock for if it were under your sink?
I've wanted to make cheese for a while but was a little intimidated by it. I have no idea why as I made much harder, more complicated things in culinary school and several times since. Ricotta seemed less intimidating and I do love it with a drizzle of honey and some toasted almonds.
You can find the recipe I used on The Martha's website. It's pretty straight forward. Heat milk and cream. Add lemon juice. The milk makes curds on its own. Strain. Chill. Eat. Most likely repeat. Is there anything you've wanted to learn to make from scratch?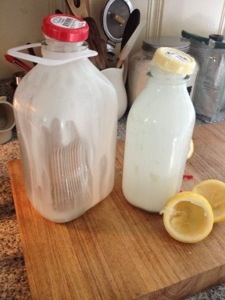 Using local, non-homogenized milk is a bonus.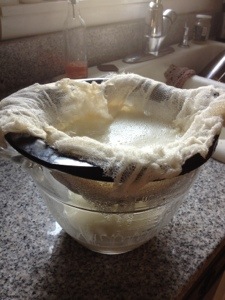 Need to invest in a real cheese cloth. This part was a little messy.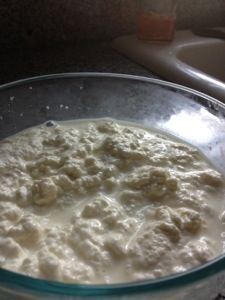 And now I know exactly what I'm having for breakfast.