It's hot. It's really hot. According to the weather channel app it's hotter here than it is in Trinidad. And, technically, at least til midnight, it's still May. This fills me with fear and loathing. Yours truly is not a hothouse flower. I think I'm more squarely in the slow-growing tundra wildflower category. I prefer the temp 40-70F, with a breeze.
I love the produce summer brings and the long days, but then it's too hot to cook so I go into salad and doing as little as possible to the food aside from running a knife through it. Tonight was a compromise of sorts. A lovely carrot salad and some honey-glazed chicken because you shouldn't eat it raw.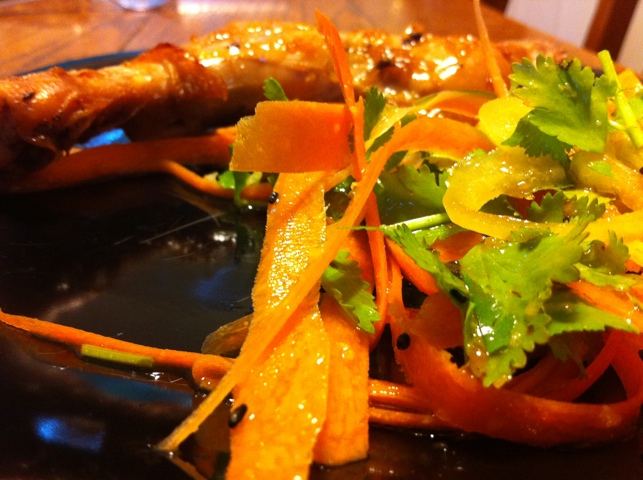 The chicken is an old standby. Melt together 1/4 cup honey, some grated ginger and garlic to taste, couple tablespoons soy sauce and the juice of a lemon and douse some chicken thighs (about 4) with the resulting elixir. 375F for 40 minutes, basting twice. Even folks who don't like dark meat chicken will eye for seconds.
The salad was a riff on a Jamie Oliver recipe from Jamie at Home. Four good-sized carrots peeled and then shaved to shreds with the peeler mixed with a big handful of cilantro leaves, a shredded green onion and some very thinly sliced Hungarian wax pepper (or any mild pepper) tossed together with a dressing of lemon juice, olive oil, ground cumin, black sesame seeds and finely grated (on a microplane) ginger equals some seriously tasty salad with enough left for a straight from the fridge breakfast.
Despite my trying to keep the hot cooking to a minimum, my oven is currently cranked up. Julian requested some teacher bribery for the end of the year in the form of brownies. So much for a cool kitchen/house.
(As a "by the way," this is my first attempt at blogging from the phone so forgive any weird spellings, syntax or spacing til I check it on the big screen. Thanks.)