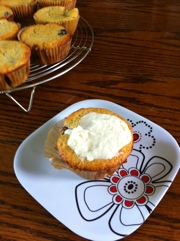 Brandied cherry muffins displayed on my faux Marimekko plates from Le Target
Young Master Julian is quite the baker. His specialty is muffins. Everytime I hit McKay, I look for muffin cookbooks. I found one aptly title Muffins which we've made a couple recipes out of. We can't seem to make them straight; there's always a tweak or twist. For this brunch experiment we subbed part of the flour with almond meal as I am forever on a quest to replicate the almond shortbread muffins they used to have a Fido.
I'll hold off on posting the recipe as the muffins didn't hold together well. They are however truly muffins, not cupcakes pantomiming breakfast in that they only have two tablespoons of sugar for a batch of 12. We served them as suggested in the recipe with a little sweetened whipped cream laced with kirsch. Very tasty, despite the weak crumb structure.
On a shopping note, I love the unbleached muffin papers we picked up at Whole Foods. They are parchment paper and the muffins don't stick and leave all the good, crunchy crust stuck to the paper.